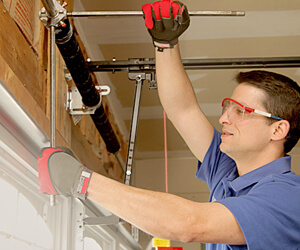 Garage door spring repair and replacement job requires utmost skills and knowledge, it is not a job for layman. If you are looking for someone who can do the repair job right the first time, contact Airdrie Garage Doors. We are your local spring repair and replacement experts in Airdrie. Our garage door technicians are skilled to handle different types of springs – torsion or extension. We do the job right, and we do it fast.
Homeowners pay very little heed to the garage door springs despite of the fact that they are one of the most important elements of a garage door. Springs are the elements that provide support to the door and allow it to open and close smoothly. Broken springs will not only halt the performance of the door, but can also damage your property. It is advised to visually inspect your garage door springs periodically. In case, you find the springs damaged, call our professionals to get them replaced as soon as possible.
Common Garage Door Spring Repairs
Broken or faulty garage door springs are one of the most common problems when owning a garage door. Our professionals can handle any garage door spring repair job regardless of the size. Some typical spring issues include:
Broken Torsion Springs

Broken Extension Springs

Replacement of Extension Spring Safely

Complete Spring System Replacement

Broken Spring Cables

Spring Balancing
Want to get your garage door springs replaced? Call at 403-744-5335
Types of Garage Door Springs
There are mainly two types of garage door springs: torsion springs and extension springs. Torsion springs are located above a closed door and mostly found on commercial and large residential doors. Extension springs are located on either side of the door and are most commonly seen in sectional and one-piece doors.
Garage Door Spring Safety
Both torsion and extension springs work under a lot of pressure and can be extremely dangerous. Since, the springs are wound very tightly, they can snap and cause considerable property and physical damage. If you find that your garage door springs require maintenance, call our professionals at Airdrie Garage Doors.
Your Local Spring Repair Experts
Our experts have been repairing and replacing garage door springs in Airdrie for the past many years. We know what it takes to get the job done right the first time. When you call us, our technicians will arrive at your place to assess the problem. Customer satisfaction is our top priority and we'll make sure your garage door spring is repaired or replaced in a timely and efficient manner.
Airdrie Garage Doors Is Your Local Spring Replacement Expert. CALL TODAY For a FREE Estimate!