24/7 Overhead Door Repair Solutions – Openers, Springs, Spares, Panels & More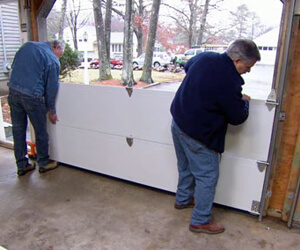 Some garage door repair Airdrie companies say much and do less. They aren't up to their promises! At Airdrie Garage Doors, we will never do less than promised. In fact, we always deliver more to satisfy our clients. That's our goal.
Garage doors are designed to shield both vehicles and garages from the outer elements. Besides, protecting your home, vehicles and valuables, they also add tons of comfort in our lives. Though, they are manufactured to perform reliably for years, but eventually there may come a time when you need a garage door repair service or tune-ups. When that time comes, simply call Airdrie Garage Doors for repair and service of both residential and commercial garage doors.
We understand that when a garage door does not open/close, or electric opener does not operate, your home and valuables are exposed to theft. That's why, we are always at your service 24/7!
Facing Issues in Operating Your Home's Garage Door?
Call Our Airdrie Garage Doors Repairmen Now!
Why Choose Airdrie Garage Doors Repair Service?
A garage door can get stuck for apparently many reasons. When you call us, our team of professionals will first assess the problem. We will explain the issue and provide you with a written estimate prior to proceeding with the repair job. Here's why these doors can demand repair or tune-up.
Your garage door won't close properly

Weather seal is not sealing properly

Your garage door won't open properly

Remote buttons are not performing the task

Your garage door makes loud noise during open/close
The window on the door are broken

Your garage door gets stuck half the way

The panels are stuck in the channel

Motor runs, but the garage door doesn't respond
When it comes to your home's garage door, something that protects your family, home and business assets, it is better to leave the job to our professionals. Remember, do-it-yourself can cost you more in the future repairs.
Contact our Airdrie Garage Doors professionals to have your door inspected properly and ensure the right repairs.
Why Choose Airdrie Garage Doors Repair Service?
Insured, Licensed & Bonded

Prompt, Professional & Affordable Solutions

Rolling Code Technology Remotes

24/7 Emergency Garage Door Service

Genuine Garage Door Repair Parts

Customized Solutions for Each Client
Repair Sectional Steel Doors

Rolling Sheet Garage Doors

Repair Broken Springs, Cables & Openers

Extension and Torsion Spring Replacement

Fully Equipped & Trained Garage Door Repairmen
Whether it's broken garage door springs that you want to replace or off-track door that needed to be fixed, we are here to meet all your garage door repair and replacement needs in Airdrie.
Modern overhead doors are miniature technological marvels. Some models contain more than 300 specific parts. Our technicians are well trained in repairs of various garage door models – old and new.
Garage Door Problems?
Contact Airdrie Garage Doors & Get It Fixed Today Itself!