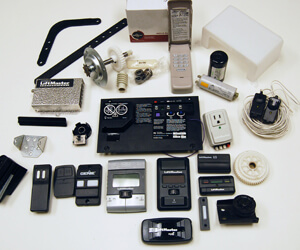 Airdrie Garage Doors provides a complete line of replacement parts for garage doors and openers. If you are in need of a garage door part, be it garage door springs, cables, rollers or weather stripping or any other parts, come to us. Our store stocks a large assortment of quality and branded parts at reasonable prices.We specialize in selling parts of the leading brands such as Chamberlain, LiftMaster, Genie, Craftsman and more.
Whether you have a broken garage door or any other part, just make a call to us and we will reach your place with the part you require. A garage door is made up of various components that must be in proper sync to perform smoothly and efficiently. One small faulty part can halt the performance of the door, creating an annoying situation for the owner. When you call us, our Airdrie garage doors technicians will come to assess the problematic part and replace it as soon as possible.
Some of the garage door parts we offer include:
Hinges

Weather Stripping

Opener

Springs
Bottom Fixtures

Locks

Slats

Keypads

Remotes

Photo Eyes

Trolley's
Gears

Boards

Tracks

Section

Seals

Bumpers
Couplings

Drums

Springs

Bearing Plates

Shafts

And More…
Why Choose High Quality Garage Door Parts?
A garage door is a mere door of metal or aluminum or glass without the parts. When your door works properly, you feel satisfied as your home and belongings are secure. However, the major role is played by the door parts that help the door move up and down with ease. Thus, it is essential to ensure that all the parts are of high quality so that your door can run smoothly for long. At Airdrie Garage Doors, we stock only genuine and branded door parts. We can also arrange the part for our clients that is out of stock. We never compromise with the quality of the parts because we know they are the key for an efficient and reliable door.
If you are looking for a specific part, call our technicians today. We will also walk you through the different garage door parts that can improve the efficiency of your door. We make sure you get the right part at the right price.
If you have any question regarding any garage door parts, call our garage door specialists. We will help you get familiar with all types of garage door parts.